Reputation Management: Why It's Important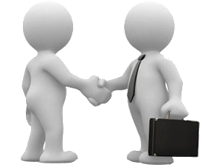 Picture this. You had a vision for a website. You worked tirelessly to see your dream to fruition, focusing diligently on the design, the content and advertising campaigns. You researched your keywords, your targeted market and your competition. You created a fail-safe business plan that made your traffic grow by leaps and bounds. You branched out, you expanded and over time, you attracted quite a following. At one point, your site was getting so much traffic, it was inaccessible at times due to server overload. Then one day it slowed to a trickle. You quickly Google your site that used to be within the top three search results, only to find the only mentions of your company on the first page are complaints.
Someone posted one complaint about your company and before long, review sites and message boards had taken the information and ran with it – 'blacklisting' you among their members all because of one bad experience with one client that expected too much. Perhaps it wasn't even a disgruntled client. Perhaps it was one of your competitors trying to sabotage your success. It doesn't matter where it came from. The fact is, it's there – and you need to be rid of it. The experts at SearchRight can help.
The SEO and content management professionals at SearchRight now provide Reputation Management services to combat deceptive practices just like this. We take a multi-tiered approach to clearing the good name of your business. Search engines use intricate algorithms to decide how web sites are ranked. Because these variables are constantly changing, your marketing strategy has to remain flexible, yet fool-proof  in order to circumvent negative publicity.
 Our Reputation Management experts will:
Research the offending information and the sites on which it appears to develop a plan to counteract the negativity that it produced.
Generate positive feedback about your company on a myriad variety of blogging sites, message boards and social media networks
Implement one of our trademark strategies to optimize the positive feedback so that it not only ranks above the offending commentary, but exalts your site to a higher placement in the search results
Optimize the feedback a second time so that it ranks in tandem with your website on the first page or two of search engine results
As your website and the positive commentary make their ascent through the search engine rankings, the bad publicity that was once holding you back is now buried under all the good stuff that's circulating about your company. Once we have achieved the goal of getting your site back in the results and burying the negative feedback, we continue to monitor the analytics to ensure that the negative feedback does not gain footing in the search rankings again.
Word of mouth advertising can be a blessing or a curse for any business. If a client is pleased with your services, they are likely to tell a friend about you. If they are unhappy with their experience, they will tell everybody they know – and then some. If your website has fallen victim to these types of malicious attacks, allow the experts at SearchRight to remedy the situation with our Reputation Management services by tailoring a plan of action suited just for you. Contact us today!